Facella- ella, ella, eh, ehhhh.
My favorite day of the year just passed. The day my news feed is filled with everyone sharing "THE PICTURE." You know, THE picture of ALL Facebook pictures. The Holy Grail of pictures… The picture of the Coachella line-up. (Cue: Angelic hymn) Why is my favorite day of the year, you ask? Well, it kicks off my favorite season on Facebook… Facella! (Yeah, I'm not going...
The Lonely Jew
Until I was in 4th grade, I was the only Jew in my class. It wasn't a big deal seeing as my family was not very religious. While we celebrated the traditional Jewish holidays, our religious beliefs stopped the second the brisket was eaten and the Hanukkah presents were opened. I went to Jewish day summer camp and had many Jewish friends, but my closest childhood friends were not Jewish. My...
My Love Letter to Hostess
Growing up, my family never had a shortage of Hostess Treats around the house. From Ding Dongs to Cupcakes to Twinkies, Hostess treats were as much a part of our family as our dog, Ginger. Except we only had the dog for like a year. We always kept the treats in the freezer. The creamy filling would never freeze, only it harden, akin to the texture of ice cream. The cake would never be frozen,...
Gay Friendly?
Someone recently said to me that I was very "gay friendly." I don't think they meant it as an insult, but the more I thought it about it, the more that I felt it was. It felt like some sort of back handed attack on me and my gay friends. I'm a straight woman who lives in one of the biggest, most diverse cities in the world. I have always had a large network of friends. A very large percentage of...
My apologies, but I'm totally THAT girl...
So I've become THAT girl. THAT person. THAT crazy dog person. I obsessively share pictures of my dog. I talk in baby talk to him. I talk about the cute little things he does all day whether people wanna hear or not (most likely not.) I am everything I hate in this world, and yet I couldn't be happier. Just over a month ago, my life changed when I adopted the most delicious, adorable, amazing 3...
Some months back I bought one of those Living Social "10 bucks for 20 bucks" deals for Overstock.com. Seeing as the deal is about to expire, I went on the site last night to do some online shopping. Since I've never ordered anything from Overstock, I started registering my personal information. As I'm setting up my account, a notification appeared that my email address was...
I have an irrational fear of hiccups. Every time I get them, I am convinced they will never go away and I will live the rest of my life, hiccuping. I get so upset that I will do anything to make them go away. And without fail, I practically give myself a panic attack. Which of course, makes them worse. My irrational fear became a rational fear, when the "hiccup girl"  became famous...
Fuck You, The Notebook
Fuck that movie. Fuck you Rachel McAdams. Fuck you Ryan Gosling. Fuck you too, James Garner and Gena Rowlands. Yeah, I said it. Fuck you for ruining my perfectly enjoyable evening out with friends. I came home to find your stupid movie on. It had just started. I fuckin' got sucked in. Oh, I knew what I was in for. "Only 20 minutes more" I kept telling myself at each commercial...
10 tags
Mankini made it, but Moobs hasn't?! Blasphemy. Until 'Moobs' is officially added to the dictionary, I will not be satisfied… popculturebrain: 6 Ridiculous New Words Added To The Oxford English Dictionary | Buzzfeed Jeggings Sexting Woot Retweet Cyberbullying Mankini
Pity Taco
Pity Taco= when your asshole co-workers forget to include you in their Taco Bell run. You find them in the kitchen eating delicious tacos. You yell, you cry. They offer you a taco. You refuse… your pride is not worth a taco! They offer again. You reconsider… who cares about your pride?! Yum. Pity Taco.
Stop whatever you are doing and LOOK AT THIS... →
Boo and I are now friends on Facebook. You should be too. https://www.facebook.com/Boo
How Jennifer Aniston Saved My Life
Recently, I was dating a guy for a while. Nearly 6 months to be exact. Things were going well. I wasn't sure if he was the ONE but I knew I was really happy and enjoying the time we spent together. Close to the 6 month mark, I started feeling distance from him. I approached him. My women's intuition was dead on; something had changed for him. Basically, he sat me down and told me that he never...
Apparently, I've Joined A Cult.
When I moved my blog from Wordpress to Tumblr some time ago (I can't remember when, and I'm far too lazy to scroll through my posts) I thought, "Oh… Tumblr seems much more simple. It'll be a good way for me to feel more comfortable posting more blogs, more often." Which, of course I didn't. But it's only cause my hands were mauled in a terrible...
The Perfect Valentines?
These… With this card. Done. I'm yours.
Baby Lu-Lu, Hell No-No →
Combining my two favorite things in life… baby talk and Jesus. I imagine this is what my own personal hell sounds like.
December 29, 2010
I've already broken all of my 2011 New Years Resolutions. Didn't need those hanging over my head in the new year…
Irony of the day...
As someone who may never actually get married (Mom, if you're reading this… plese stop crying. You already have 2 grandkids) it's ironic I was photographed, seated in the first row of a bridal fashion show. Look at my dumbass head popping into all the pics. I went for the free cupcakes… don't judge me. ...
Don't leave me to my own devices when I have a...
I ate some raspberries from my fridge not realizing till I brought them out into the light that they are molded. Am I gonna die!?!? Ugh. Death by raspberries. How embarrassing…
For Halloween this year I've decided to dress up as a gift box. 'Cause let's be honest… I'm a gift from God.
My week is more awesome than your week
I'm hesitant to post this blog post seeing as there may be an exuberant amount of jealousy surrounding me. Sunday- got a migraine. Monday- lingering migraine with a side of a sore throat. Do I have to leave a tip? Tuesday- Woke up with a gnarly summer cold. Sure, it's 80 degrees outside, but man, am I craving some piping hot tomato soup. Wednesday- Oh hello cold! I wasn't...
Chomp Chomp Chomp.
There are two types of people in the world. Really awesome people… and people who FUCKIN' CHEW ICE! Seriously. It's not a food group, people. If you're thirsty, drink something cold. If you want something cold and refreshing, have a popsicle. If you need something to chomp on, get a fuckin' teether. I'll even freeze it for you. But for the love of my...
Just cause it's liquid...
…doesn't mean you're not a fatty. Um… I'm going with 6 delicious donuts over one disgusting Rockstar drink. Donuts make me happy. Read this. It'll blow your mind. And your intestines. http://worldmysteries9.blogspot.com/2010/05/harmful-drinks-in-america.html
Looking for the creepiest soap ever? You're...
http://www.aplusrstore.com/product.php?id=263&cid=64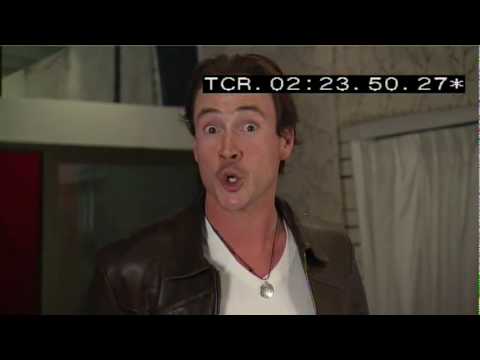 More SNL. More Betty White. *cough cough Debbie...
You're welcome. http://jezebel.com/5534508/the-four-skits-you-didnt-see-on-snl-last-night
I can spell Barista
Apparently my name is of an Icelandic root. Which is the only explanation for why people can't spell or pronounce Alisa, just like they can't "Eyjafjallajokull." ( I spelled that from memory. Seriously. Ok fine. Not seriously.) My whole life, these 5 little letters have become the bain of my existence. I mean if my name was Eyjafjallajokull I would get it. But its LISA...